Whether it's a promotional event, new product launch, or client merchandising contract, sales and merchandising teams are often tasked with executing programs that require them to make hundreds of account calls within a specific timeframe or budget.
That's where Projects & Jobs come in, to give field teams a faster and more cost-effective way to execute their retail execution objectives. With Projects, we've made it easier than ever to manage project requirements, schedule work for the most qualified reps, and track and share high-quality work as it's completed. Plus, Jobs gives field teams extra staffing firepower when project timelines are tight, allowing their reps to find and claim available jobs nearby.
Let's take a closer look at how you can complete your retail execution objectives faster and more cost effectively with Projects & Jobs.
In this article:
What are Projects?
Projects allows you to manage a set of related activities your team needs to complete within a certain time frame (e.g. for a promotion event, merchandising client, product launch etc.). Here are some examples of project types many of our customers run:
Merchandising contracts

Planogram resets or display builds

Promotion launches and audits

Field marketing events (festivals, sampling events, etc.)

Sales blitzes
Every project includes a list of target places that need to be visited, one or more tasks reps need to complete at those places (i.e. a form, audit, or order), and a deadline for when the project should be completed.
It's also easy to share additional details with your team, such as project priority, the amount of time each visit should take, the pay rate for each visit, brand, and whether materials are required. That way your team has all the information they need to properly plan and execute their work.
Prioritizing Your Team's Work With The Projects Dashboard
The Projects dashboard gives you a single view of your team's progress toward all of your most important retail execution objectives, so you can see at a glance which projects need the most attention from your team.
The Done metric shows you the percent of visits that have been executed compared to the total number of planned visits, so you can see which projects are on pace and which might be running behind.
The Scheduled metric goes a step further, showing you how many visits have actually been assigned to your team to complete and which still haven't yet been scheduled, so you know whether the remaining visits are on your team's calendar to complete or if they still have to be scheduled.
While you can always schedule visits directly for the reps responsible for a certain brand, territory, account, or store, the Job Board allows you to open remaining visits up for a larger part of your team to find and claim based on their skills and availability. The On Job Board metric shows you how many unscheduled visits have been posted for your team to find and claim.
Scheduling Project Work For Your Team
Whether you're kicking off a new project or scheduling some additional work to close the execution gap on a project nearing its completion date, Repsly makes it easy to distribute work to the team members who can help you get projects done as quickly and efficiently as possible.
Repsly includes multiple scheduling workflows to support different staffing models:
Scheduling Visits (Direct Assignment)
For teams that have specific reps assigned to cover certain stores, Direct Assignment makes it easy to schedule project visits to the assigned rep for each store. Just select the visits you want to schedule and Repsly will automatically suggest the rep assigned to that Place. Or set a filter and select visits for a certain territory or account (for example), then choose the rep you'd like to cover those visits.
Once the visit has been scheduled, the rep(s) will get a notification (optional) and the visit will appear on their schedule with the corresponding due date and details.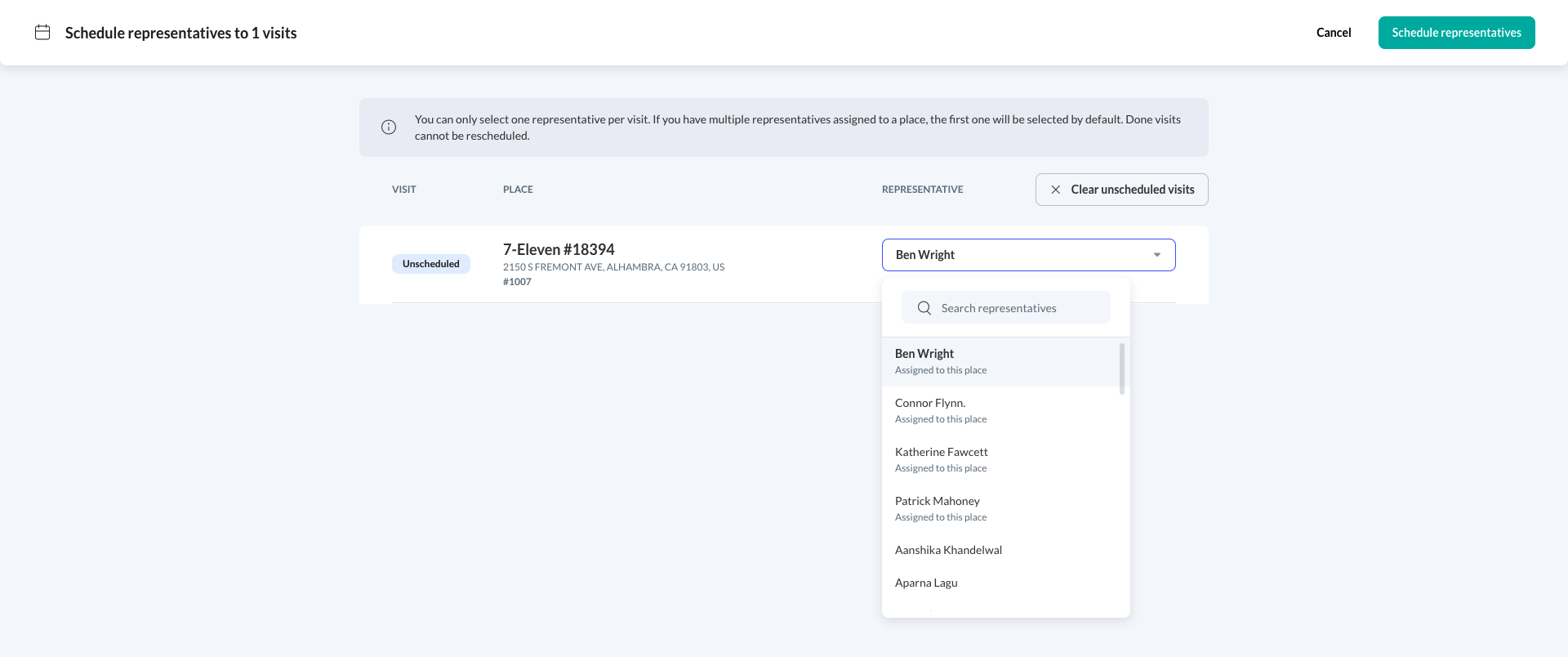 Posting Visits to the Job Board
For syndicated models, or teams in which multiple reps cover a certain account or brand, the Job Board makes it easy for qualified reps to find and claim visits that have been planned but not yet assigned to a rep.
When you publish a project to the Job Board, you'll have the option to set rep parameters — these are the rules that determine which reps will be allowed to find and claim jobs for this project based on the attributes you've set in your team database, such as their team, skills, brand assignment, or role.
Related: How to Track Rep Skills and Attributes in the Team Database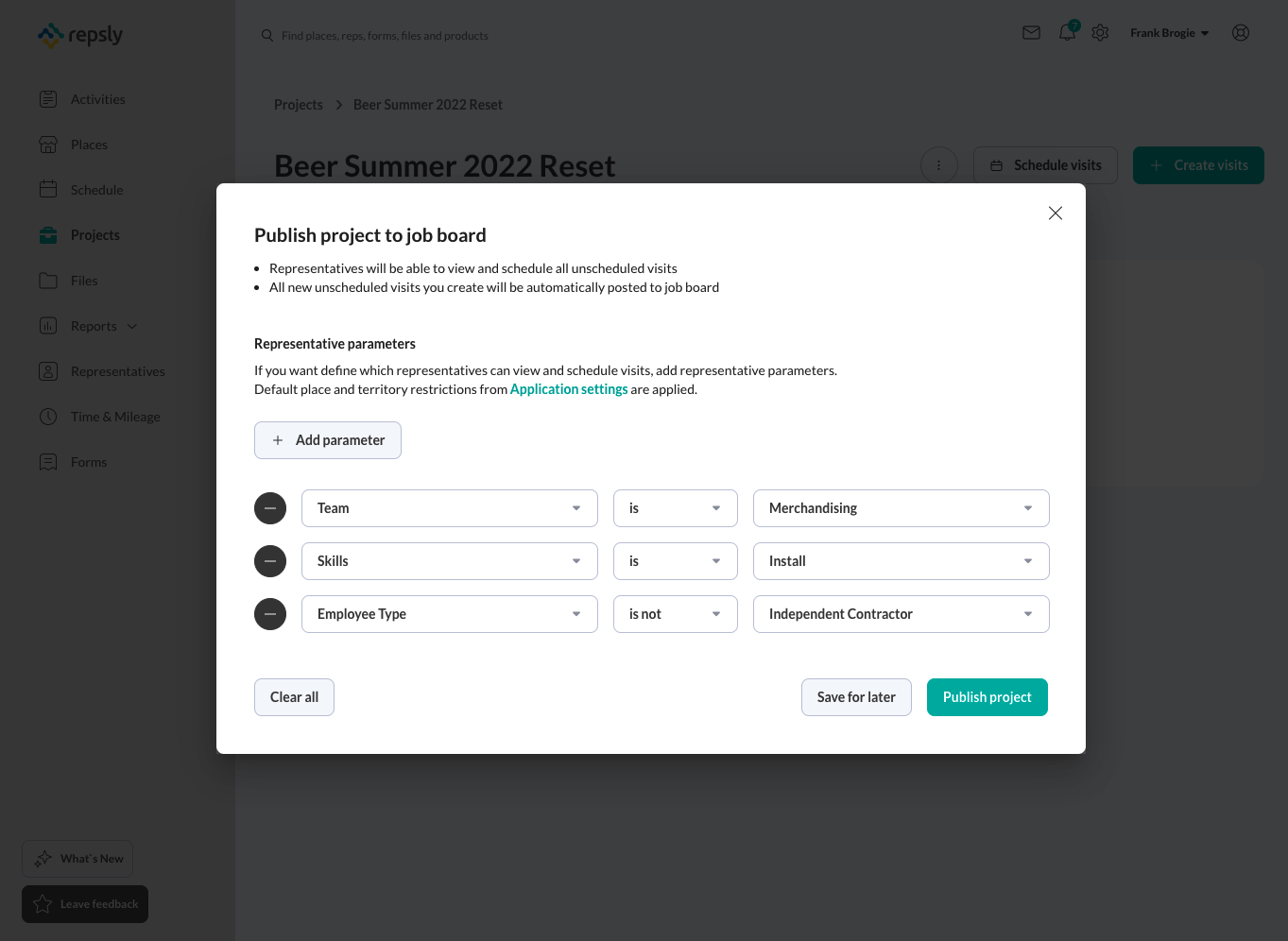 Once you publish a project to the job board, Repsly will show you how many reps are qualified to find and claim visits for this project based on the parameters you set. It will also show you the total number of jobs that are available for those reps to claim and the number of visits that have been claimed so far. This should help you estimate how quickly your team will be able to claim and execute the remaining work for the project.
Reviewing Project Execution
Completion Reports
Repsly's completion reports help you understand your team's progress during a project, so you can make sure you're on track to execute your retail execution goals as quickly and cost-effectively as possible.
Project Timeline:

See at a glance whether you're on track or falling behind your project timeline by comparing the % of completed visits to the % of the timeline that's gone by so far.
Visits:

Get a breakdown of all the project visits by status (completed, missed, scheduled, or unscheduled).
Visits duration:

Understand how long it's taking your team to complete work in the store, so you know whether a project will take more or fewer hours than you estimated.
Estimated payment:

Visualize the amount of your project budget that's been spent so far, and get an updated estimate of total spend based on the latest actuals from your field team.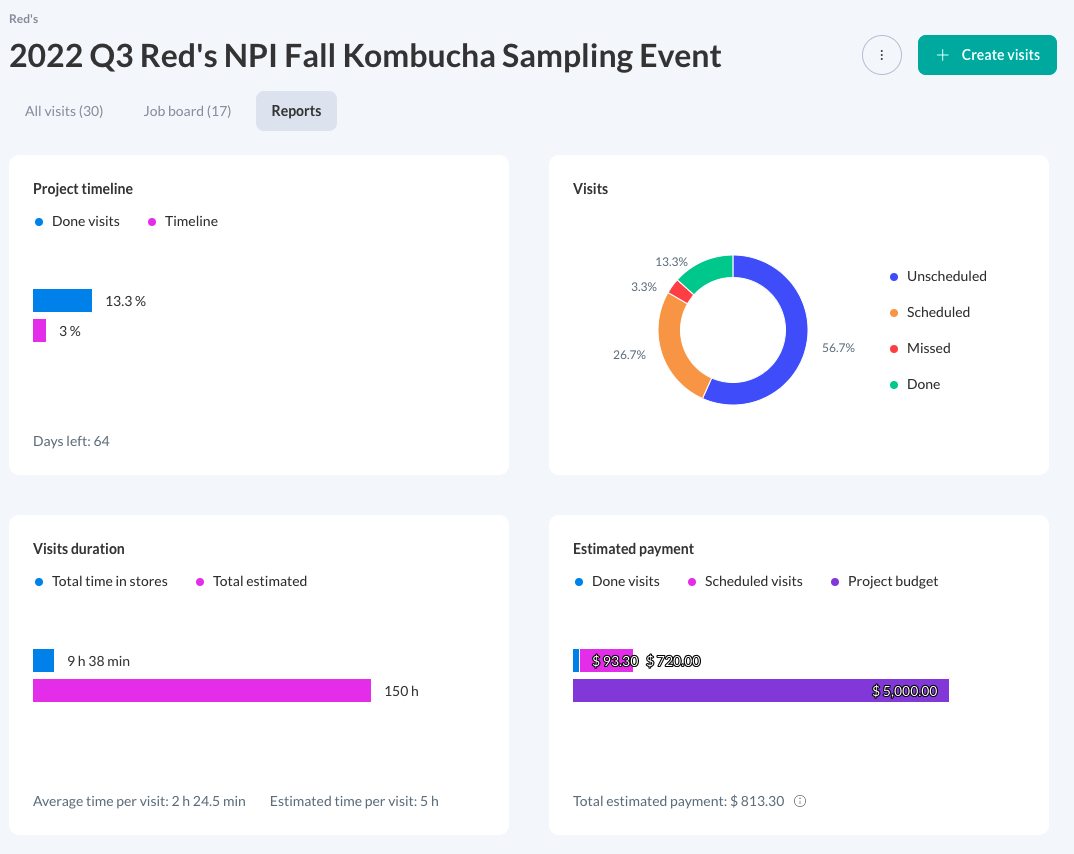 Project Activity
Repsly makes it easy to drill into the details of each project so you can understand exactly how work is proceeding on a visit-by-visit basis, and share activity details with any stakeholders who need to stay in the loop.
You'll see a breakdown of all the details for each visit, including which rep was assigned, whether the visit was done on time, whether the assigned tasks were completed, and how long the visit took to complete. These details are especially useful for teams that need to bill clients based on the work they do for them in the field and need a record of exactly what work goes into each project.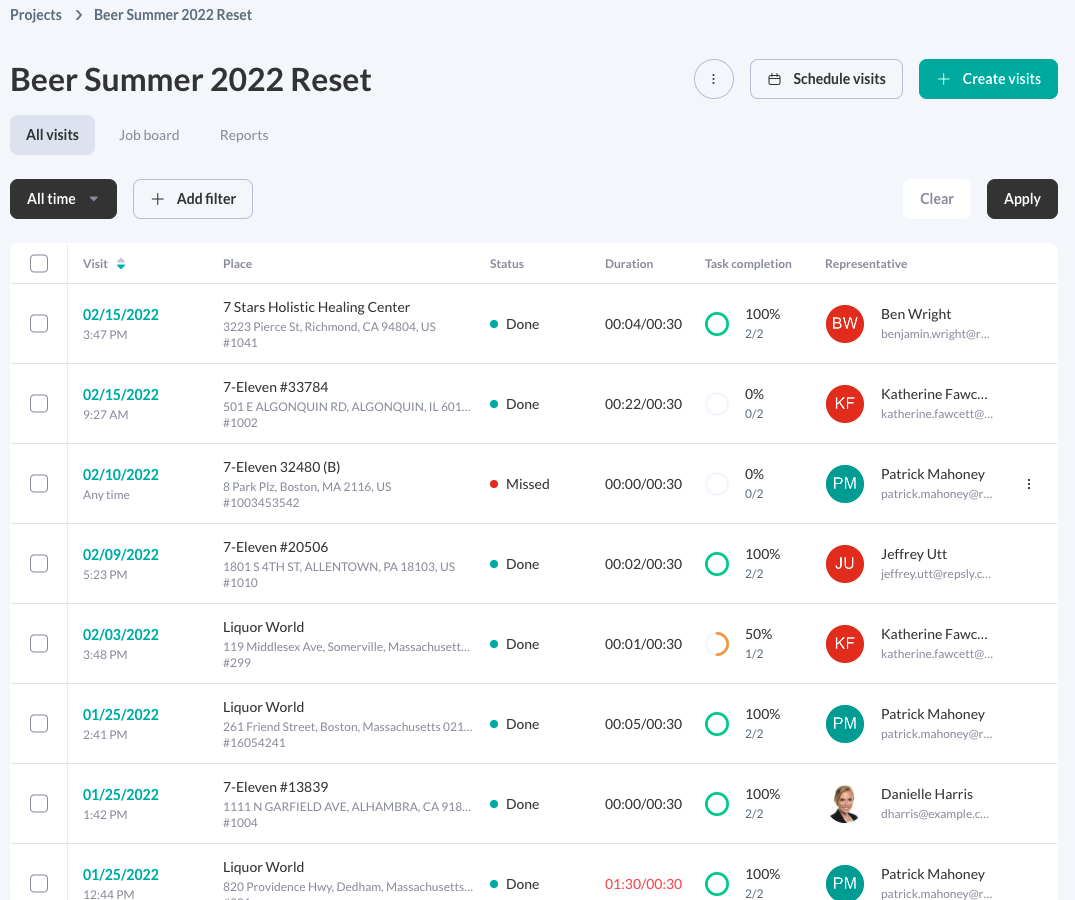 Execution Reports
In addition to seeing the activity your team has done to support each project, you can also drill down and review execution results for each of the tasks required as part of a project. For example, you can view and share a summary of Form responses or audit details, or review a gallery of the photos your team took to confirm execution during project visits.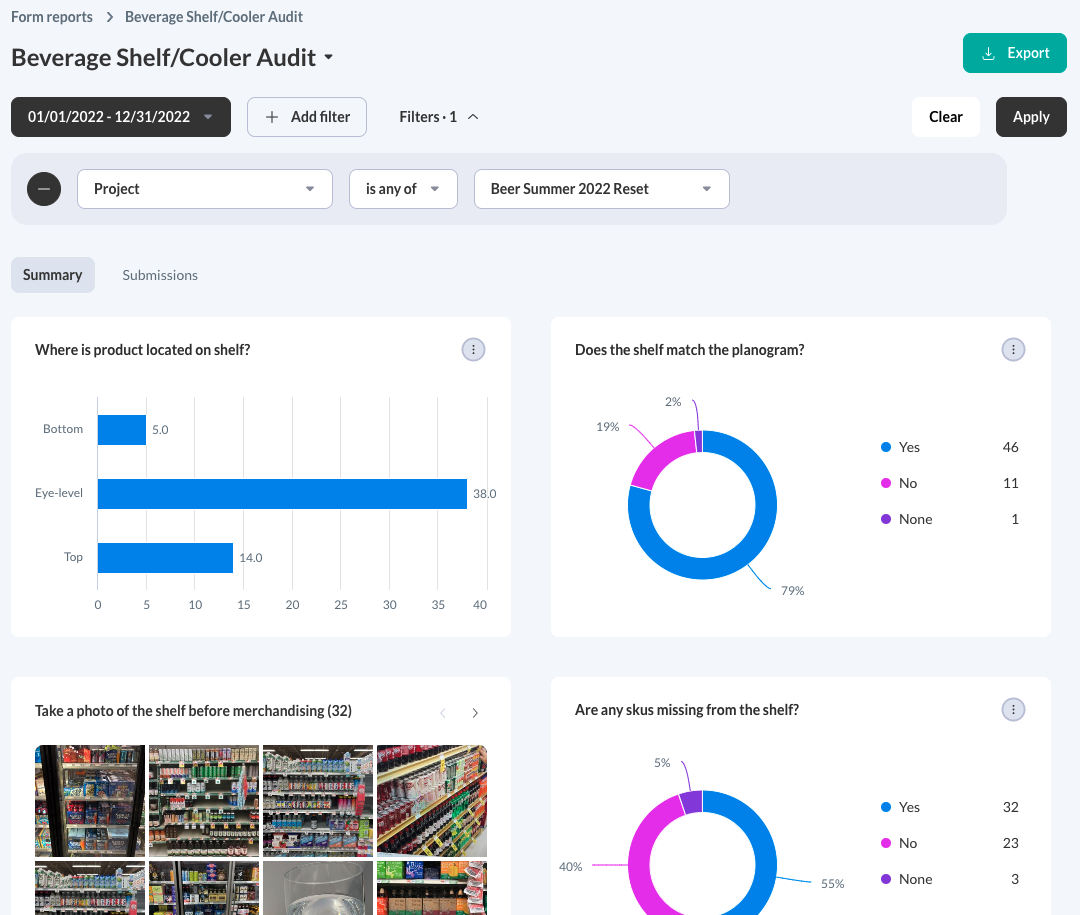 Learn more:
Projects is included as part of the Repsly Enterprise plan.
Related: