Setting up a Project allows you to manage a set of related activities your team needs to complete within a certain time frame (e.g. for a promotion event, merchandising client, product launch etc.).
Related: Projects Overview: Everything you need to staff and execute your most important in-store campaigns
Here's how to get started:
Create a new Project
1. Navigate to "Projects" in the main navigation menu on the web.
2. From the Projects list, select "+ New project."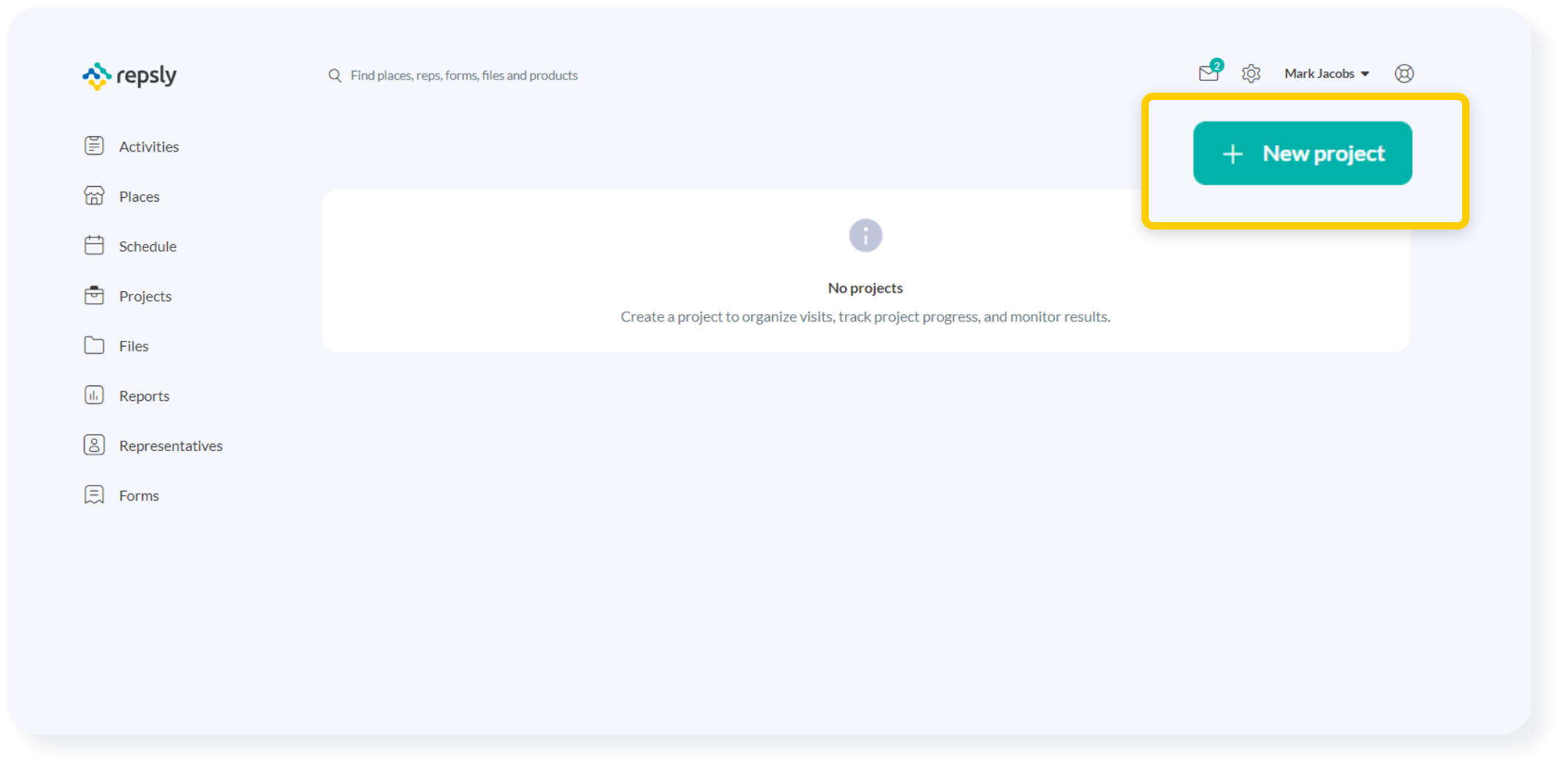 Set up your Project settings, visit setup, and payment options
3. There are lots of configuration options you can use to make sure your project is executed properly. Here's a breakdown of the configuration fields you may want to update (mandatory fields are marked with an asterisk*).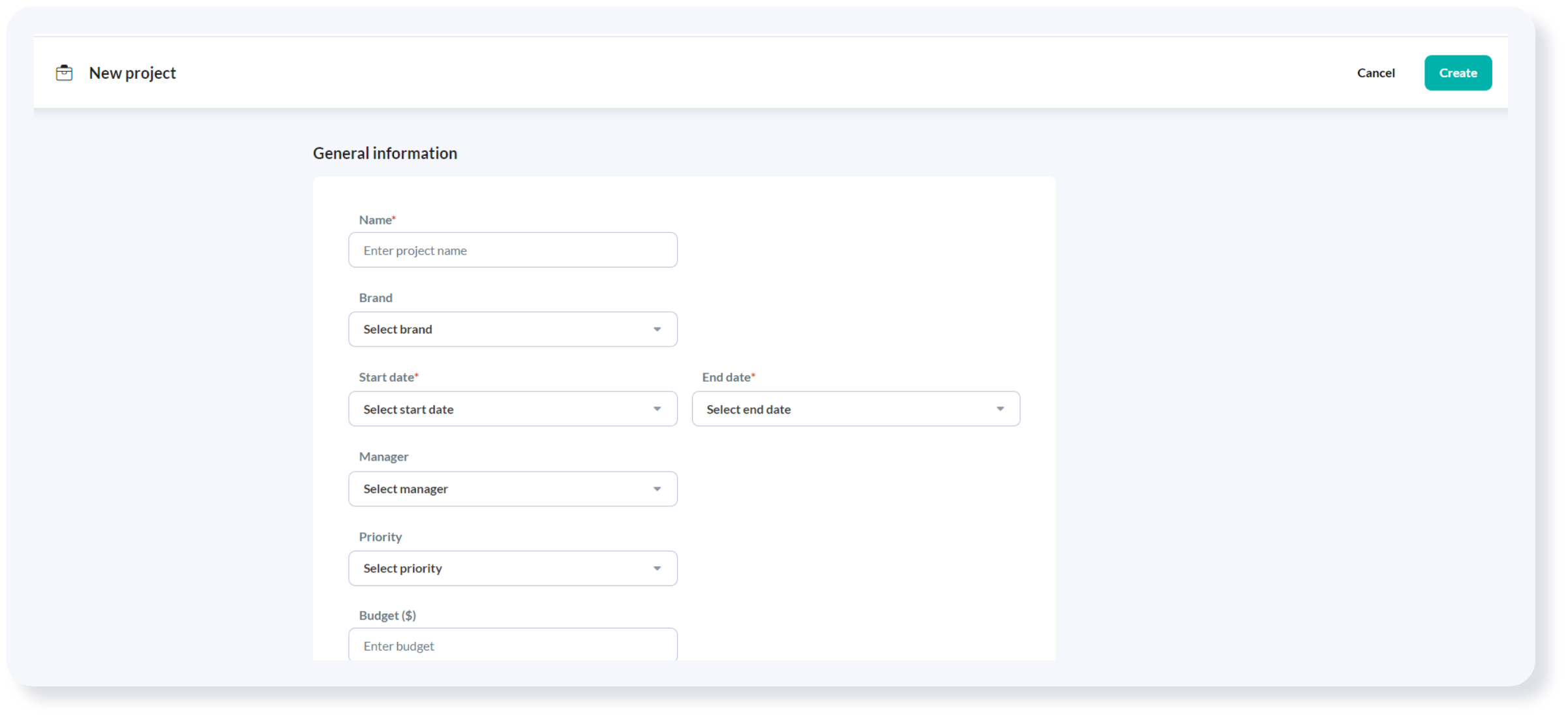 General information - This is where you set the purpose and administrative requirements of the project.
Name* - Provide a unique name to identify a project. You can filter certain activities and reports by Project Name.
Brand - Identify a brand or client associated with the project. This is helpful when filtering Projects by client, or creating client-specific reports.
Start date* - Project visits can only be scheduled within the project time frame. Visits will not be eligible for representatives to complete until the start date.
End date* - Project visits can only be scheduled within the project time frame. End Date serves as a deadline for when all work in a project must be completed. Setting an end date also allows you to track project progress vs time remaining in the project.
Manager - Select a back-office user to manage the project. You can filter the project list by Manager.
Priority - Projects can be labeled as High, Medium or Low priority to ensure managers and reps can quickly identify high priority work. Visits for High priority projects will be highlighted as such in the mobile schedule view and visit details.
Budget - Set a budget to help track against projected spend.
Audit rate - New or high priority projects might warrant a higher audit rate.
Admin note - Capture important information for the project and its visits that you don't need representatives to see.
Visit setup - Easily define the work that needs to happen for a project at scale. Visits for a project have a uniform "what" and set time frame for "when", but vary in "who" and "where".
Estimated duration* - Select the amount of time to be scheduled for project visits. Setting an estimated duration also allows you to track average actual duration vs estimated for project visit and adjust the estimated duration on the fly.
Description - Provide instruction to the representative for completing the visit.
Materials are required - Ensure managers and reps can quickly identify work that requires materials. Visits that require materials will be highlighted as such in the mobile schedule view and visit details. If toggled yes, you may provide instructions for acquiring or using the materials.
Tasks - Add tasks to be completed during project visits, including form, retail audit, and sales documents.
Payment - Define the pay for each visit. This section is optional and typically applies for companies with part-time or contract workers.
Pay rate type - Project visits can be offered at a flat, hourly or no rate. Visits with a flat or hourly pay rate will include that information in the mobile visit details, if the visibility setting is enabled.
Pay rate - Set an amount to pay representatives for a visit based on whether the pay rate type is flat or hourly.
Pay rate is visible to representatives - If you want to track a flat or hourly pay rate per visit, but not advertise it to representatives, you can make the pay rate not visible to representatives.
Maximum paid duration - If you set an hourly pay rate, you can set a maximum paid duration, which must be greater than the estimated duration. The rep will receive an alert if they exceed the maximum paid duration in a store. In the web view, managers will be able to see completed visits that exceed the maximum paid duration in red.
Add and schedule visits for your Project
4. Select "+ Create visits" and select places that should be visited for the project. Apply filters such as Account, Territory, Place tag, or others to help narrow down the list.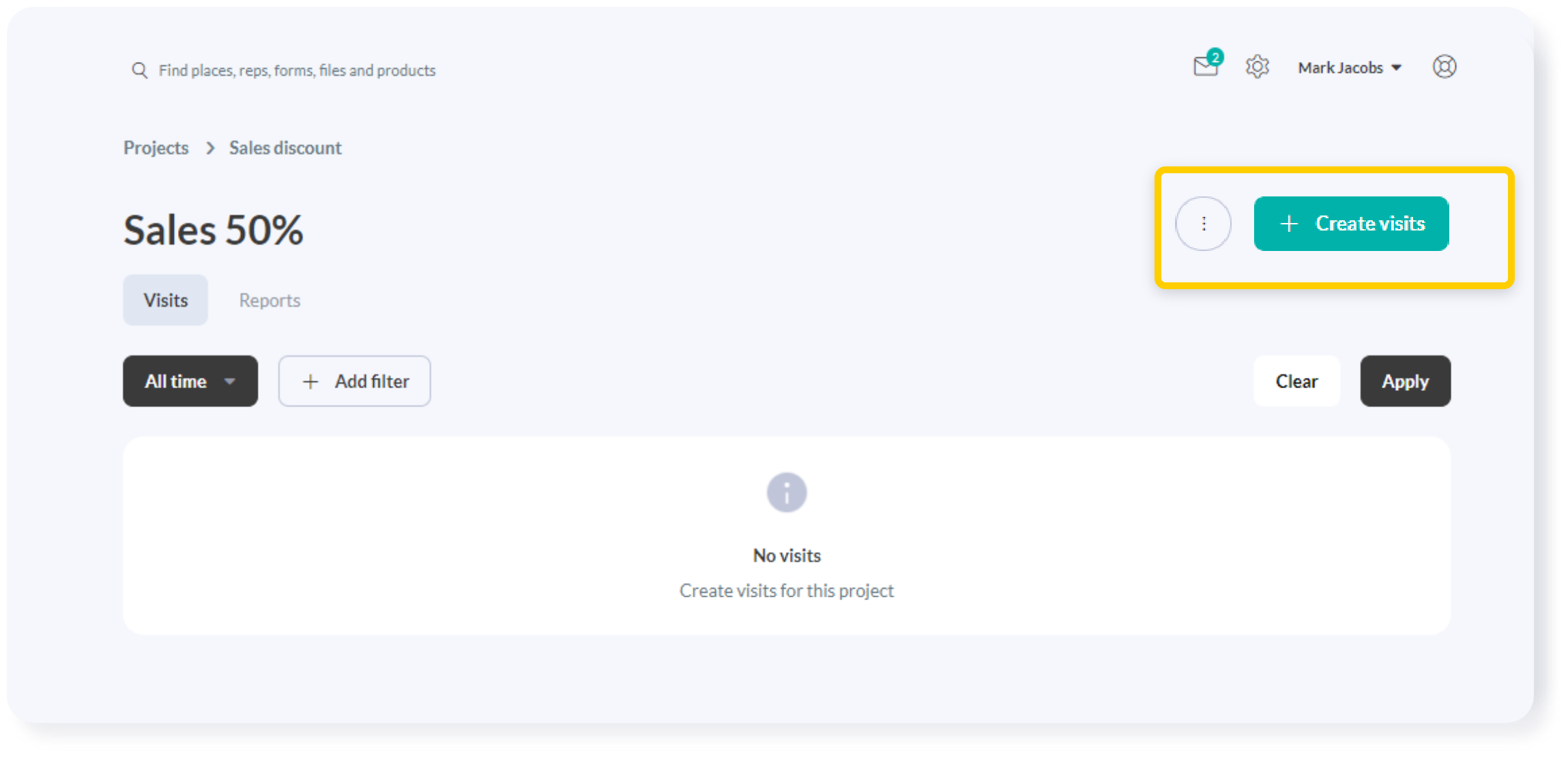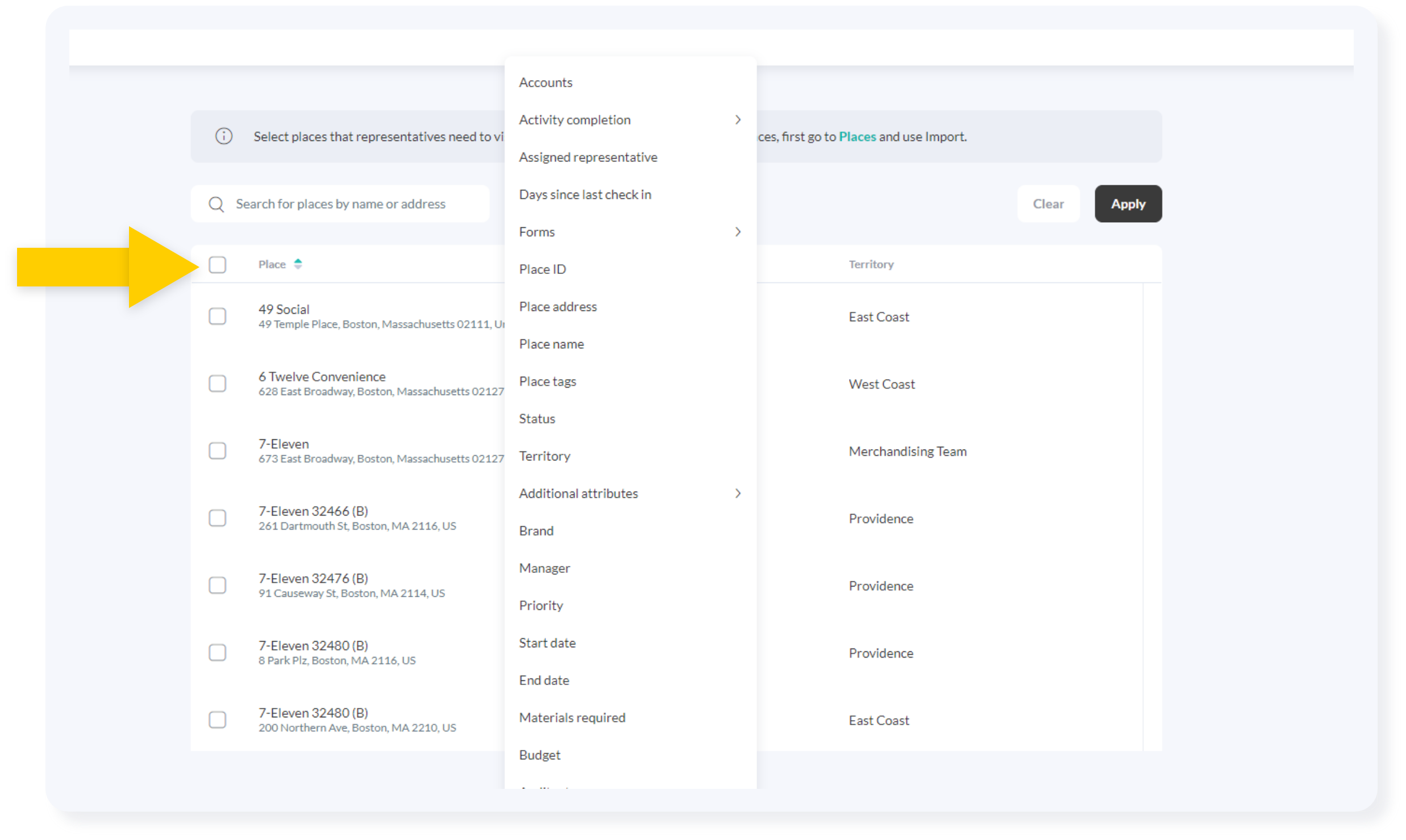 5. After you add your Places to create visits you will be able to schedule visits for your Representatives.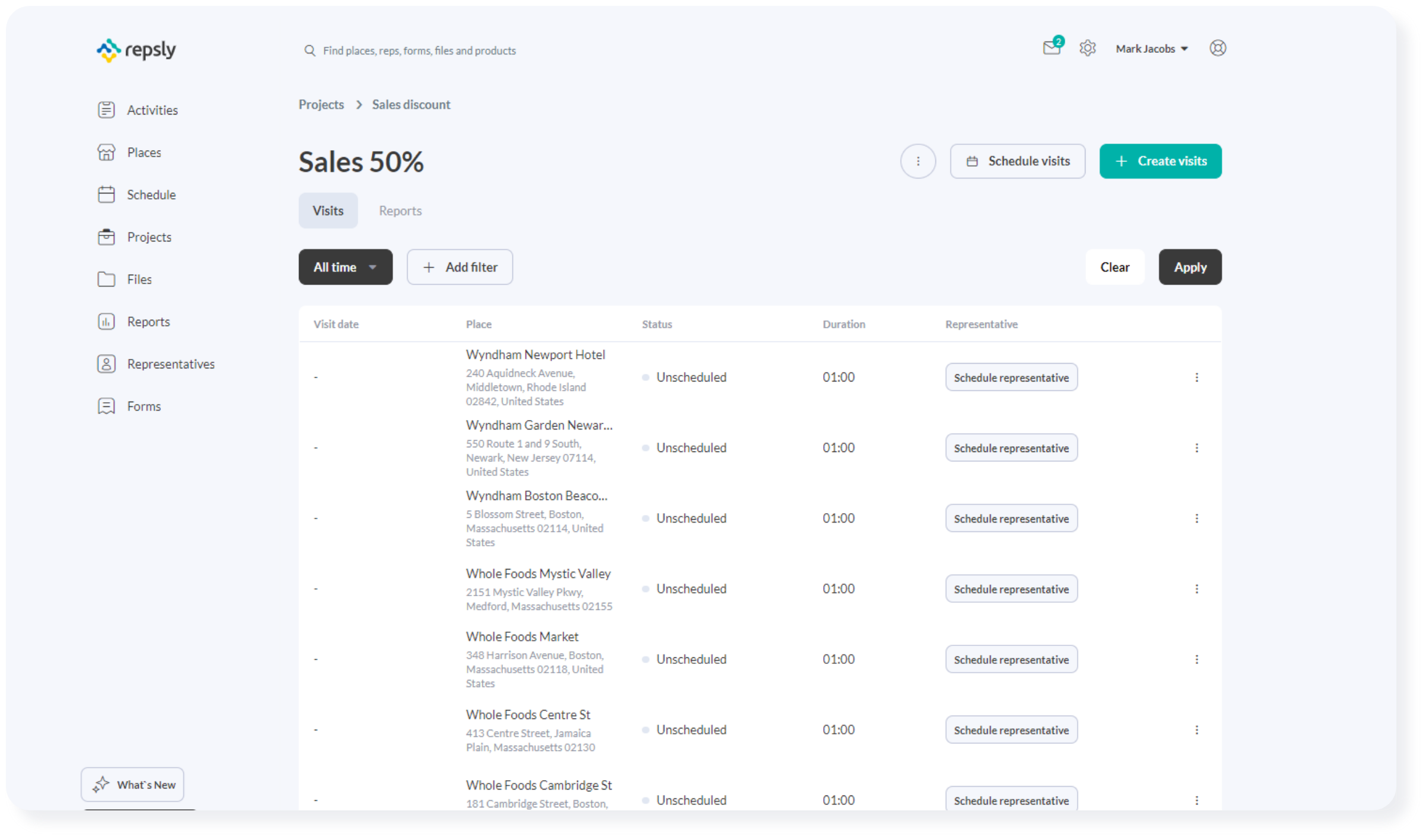 Schedule them individually with the "Schedule representative" button on each visit. Scheduled visits will assume the project End Date as the due date by default.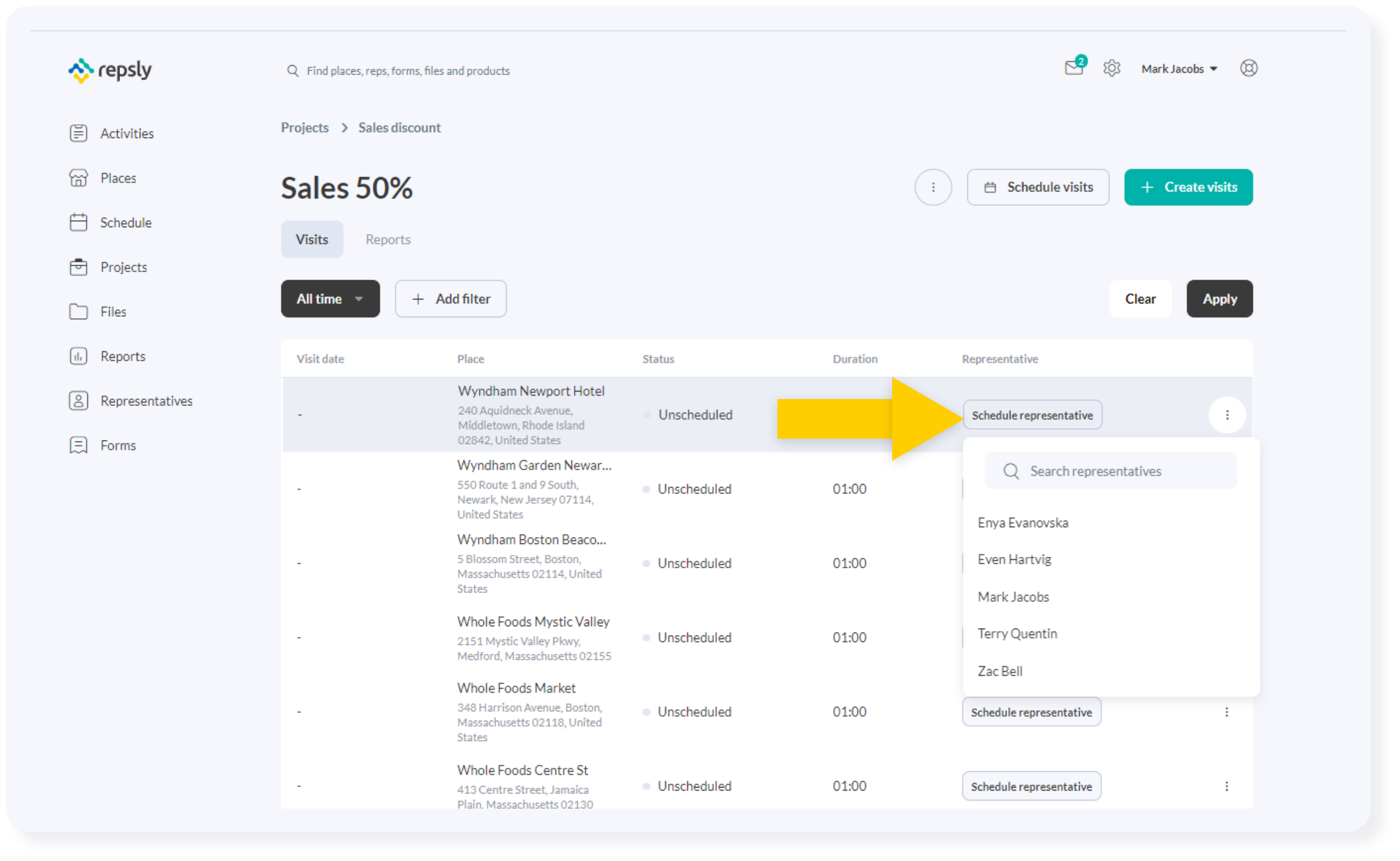 6. Alternatively, schedule visits in bulk by selecting "Schedule visits". Unscheduled visits will be scheduled to the rep assigned to that place by default, but a different rep can be selected from the Representatives dropdown.
Each visit can only have one representative scheduled.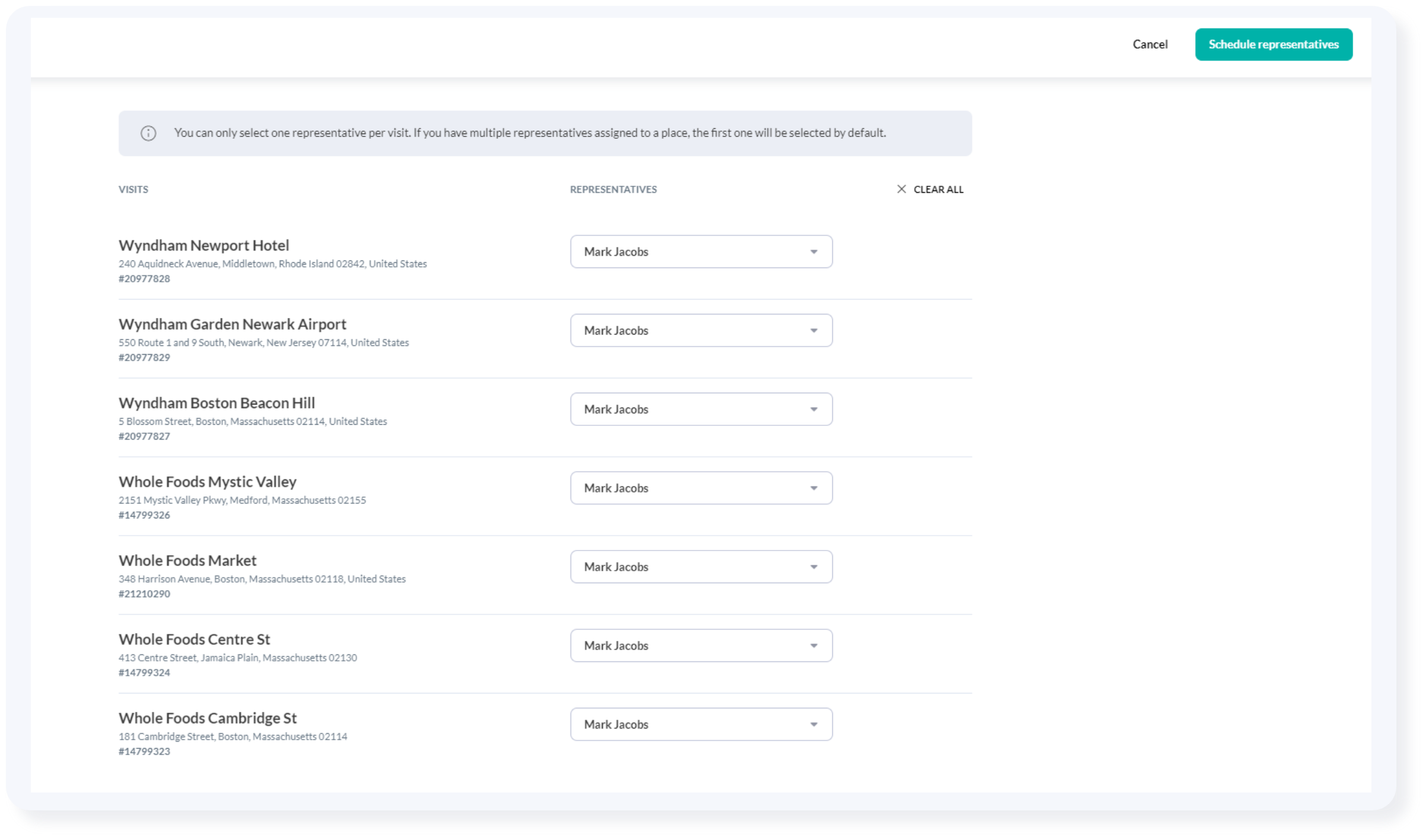 Congratulations! You've successfully set up a Project. Click here to learn more about how to edit or delete Project visits. Or click here to read more reporting on progress once your Project starts.