The Repsly web application has continuously evolved to meet the needs of its customers. Users feature addition represents a significant advancement in the system, allowing for improved collaboration, streamlined workflows, and optimized user management. In this article, we will explore the differences and improvements that have emerged since the Users feature became available in the Repsly web application.
User Roles:
The Users feature has brought a greater level of accountability and visibility, benefiting both management and team members. Instead of a singular admin or representative role, multiple user roles are now available and tailored to specific responsibilities.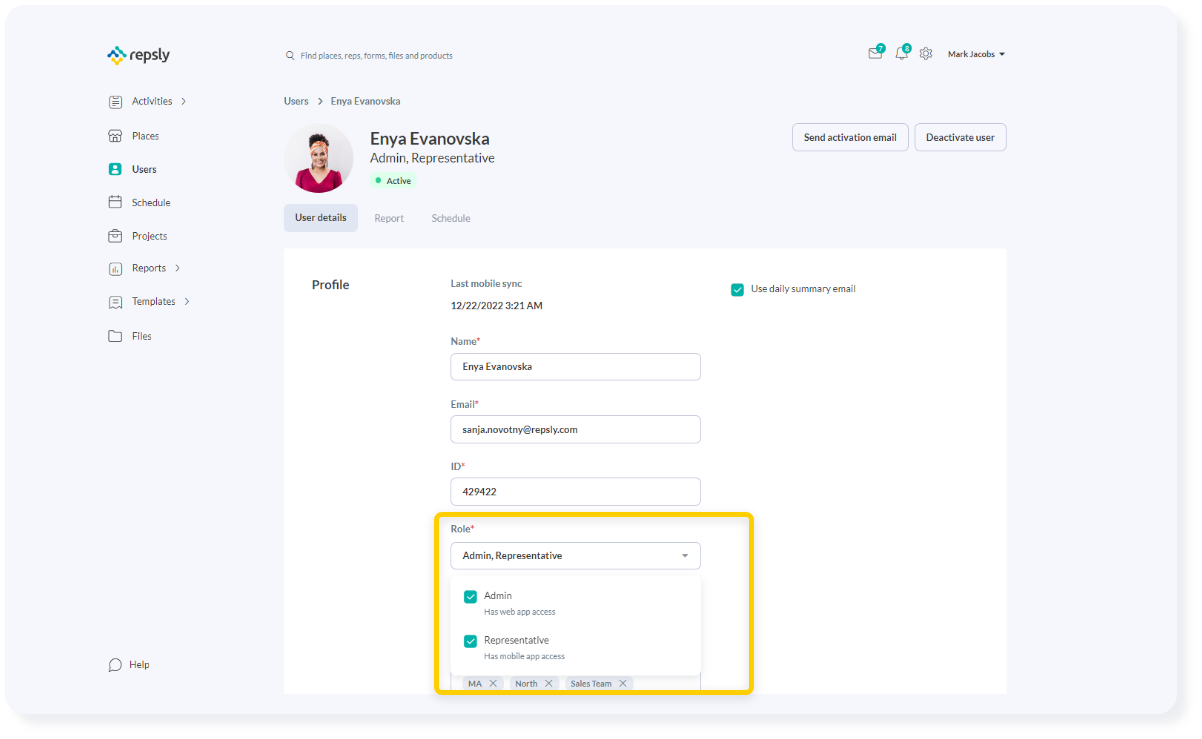 Understanding Territory Distinctions:
With the recent feature update, a change has been introduced – the requirement for all users to be assigned territories when this option is activated. The implementation of these territory changes aims to improve user experiences and streamline operations. Users can navigate the platform more effectively and leverage territories to their advantage.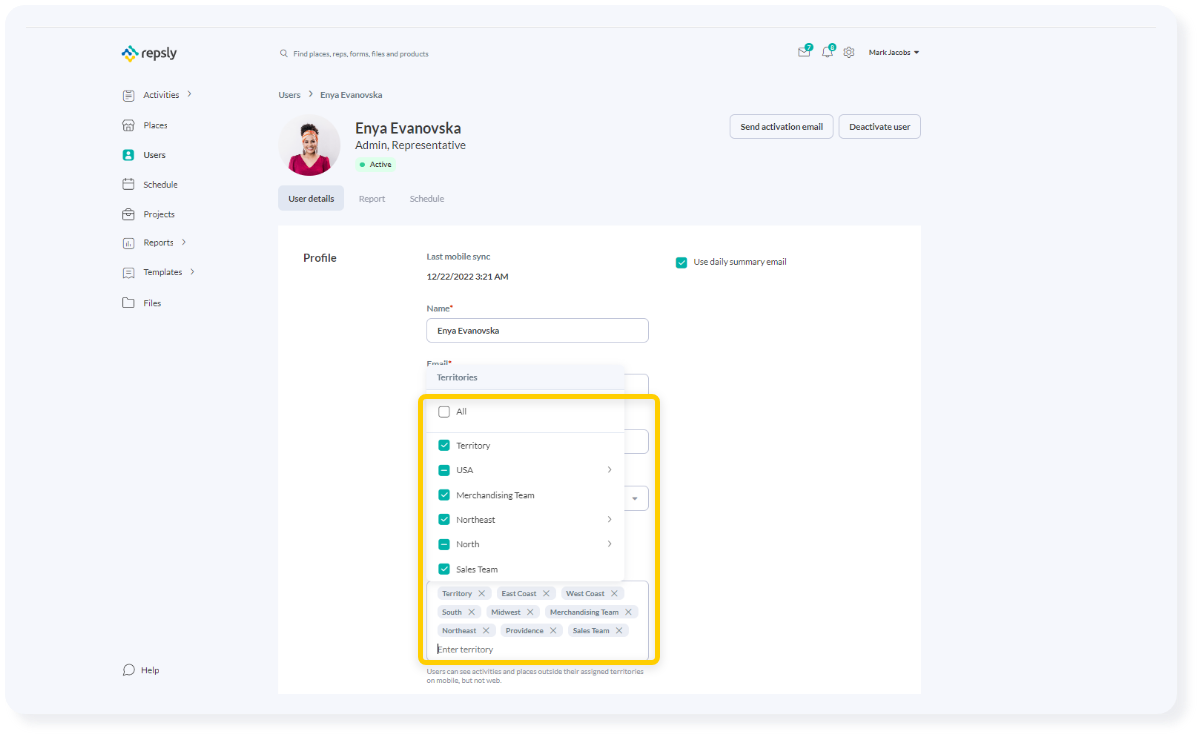 *ALL* Territory Assignment:
Users who have been assigned to ALL territories will gain access to a comprehensive view of all representatives and territories, including ones without territory. These users will not encounter a default territory selection when utilizing filters.
Specific Territory Assignment:
For users assigned to specific territories, their visibility will be tailored accordingly. They'll see places and representatives only within those assigned territories. Additionally, the default territory for filters will be based on the first territory listed in their Territory field.
Account Owner Privileges:
It's important to note that the account owner possesses the authority to view users who have not yet been assigned territories. This function reinforces the owner's oversight and control over the assignment of territories across the system. The account owner does not have any restrictions.
Note: In the Repsly system, there can only be *ONE* account owner.
Understanding the Import of Users Distinctions:
When considering importing user data into the Repsly web application, ensuring a seamless process requires understanding key distinctions. Below, we've outlined essential guidelines for successful user imports:
We advise downloading the attached sample file before starting the user import and/or exporting the users list because this simple template helps you organize your data for accurate import.
User Import Essentials:
1. Exclusion of Account Owner: It's important to note that the Account Owner (AO) must be omitted from the import file. Any changes or updates pertaining to the Account Owner cannot be executed via the import process.
2. Mandatory Fields: Certain fields are mandatory for successful imports. These include ID, Name, Email, Active status, Role, and Territories (if the territory feature is turned on).
3. Adding Users and Custom Attributes: For adding new users, ensure that the chosen ID is not already in use. If you intend to assign custom attributes, you can just add each existing attribute as a separate column.
4. Role and Territory Assignment: Roles and territories can be assigned effectively by separating them with a pipe delimiter "|." This method accommodates multiple roles, territories, or custom attribute responses.
The addition of the Users feature to the Repsly web application resulted in a comprehensive transformation that promotes better collaboration, accountability, and efficiency. Repsly's commitment to delivering a powerful, user-centric platform is marked by the differentiation of user roles, increased visibility, personalized experiences, and streamlined user management. As the web application evolves, users can expect even more advancements that will help them succeed in the field of sales and retail execution.