You can import place lists, by either importing an excel file or by the copy and paste method into the back office. This allows you to edit larger quantities of data in bulk. To get a template for upload you can go to the Places tab and export the Excel file from that page (bottom left corner).
This is a short guide on how to import your list but if you are interested in a detailed guide that will show you how to properly create your list and avoid all possible errors, please read our full-length guide here: Best practices for importing
Importing Place Lists
1. Click on the Places tab and then click on the import button.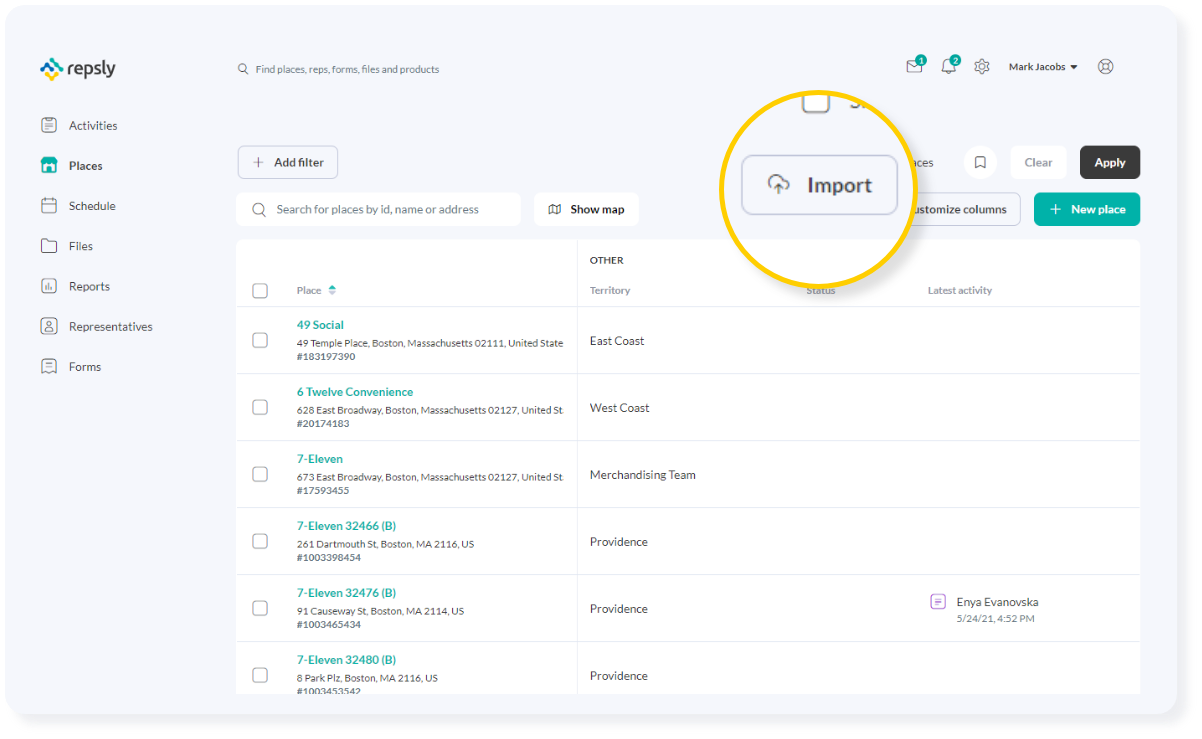 2. From the import page, choose whether to copy and paste or upload from excel.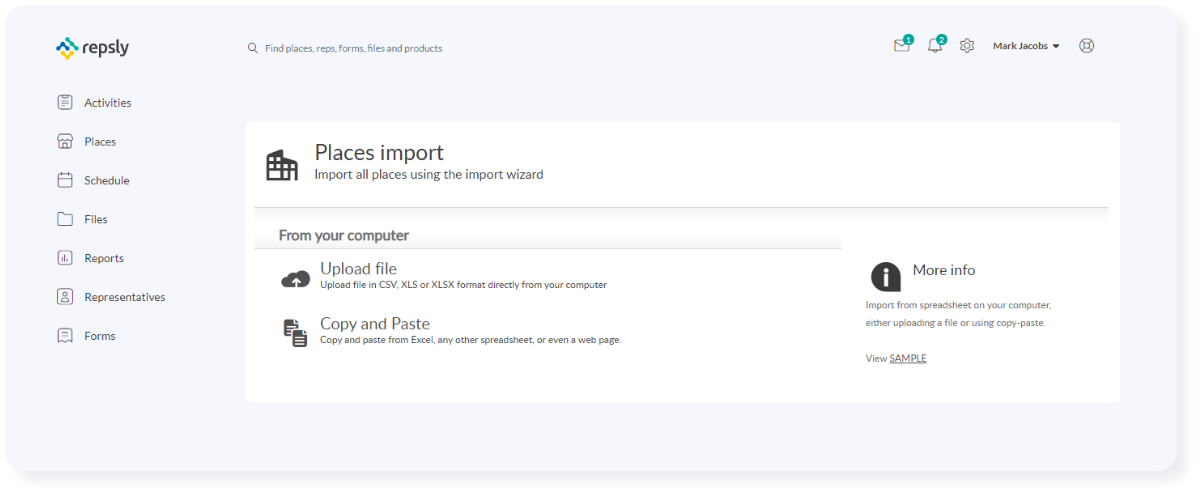 As illustrated in the image above, you will see "More info" on the right where you can click to view a sample of how your file should look like and you can download a sample data as well.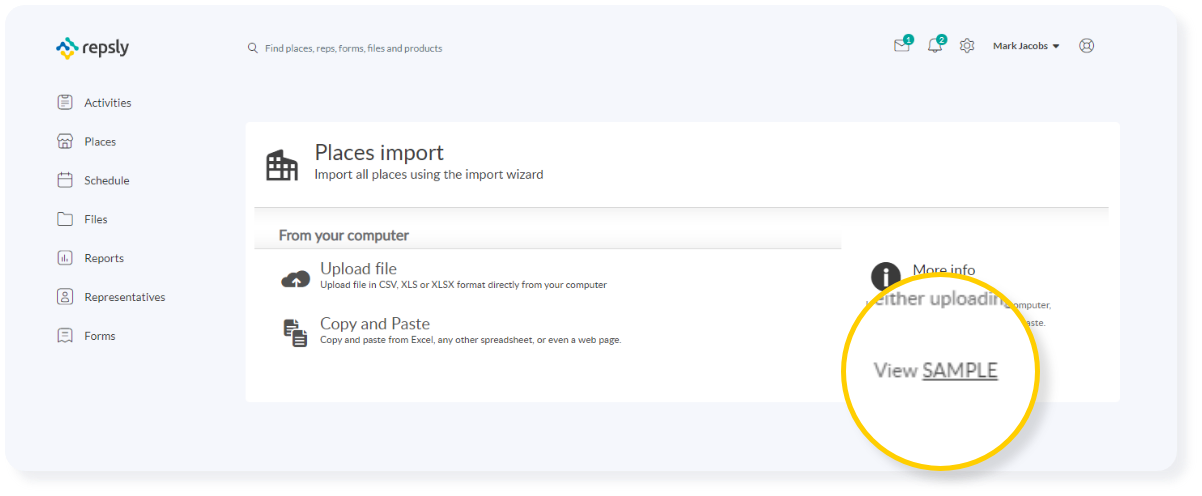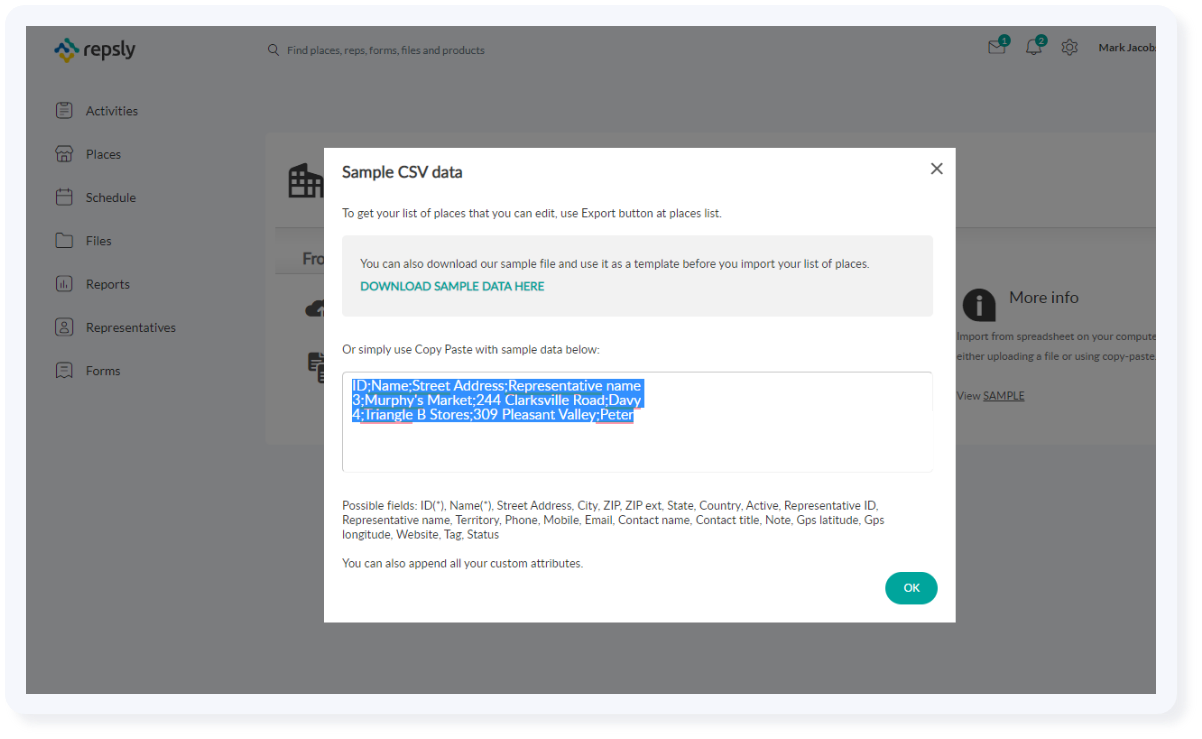 4.a If you choose to upload the file, you will see the following window.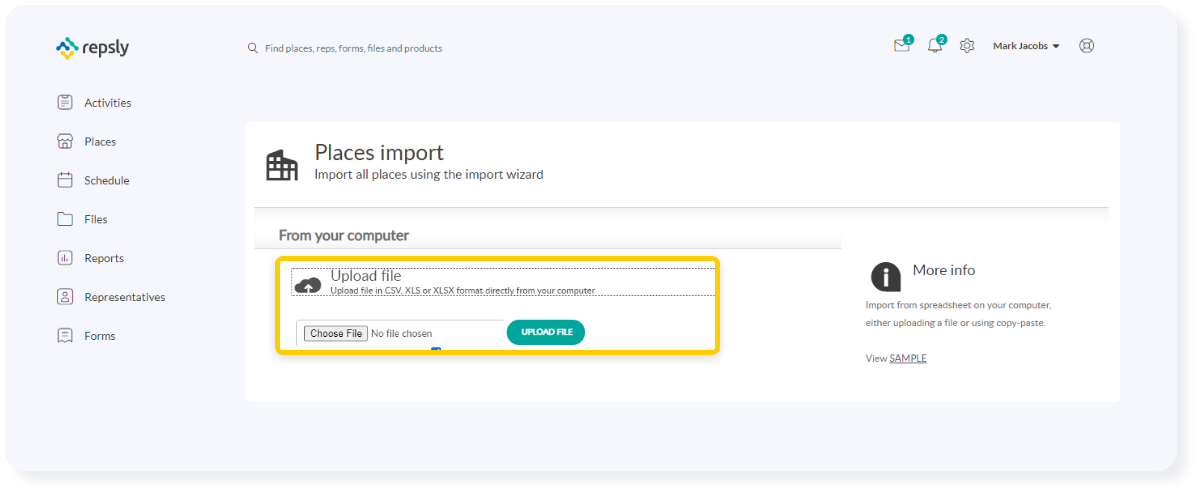 4.b If you choose the Copy/Paste method, once the spreadsheet has been loaded, click Continue. This will allow you to review all of your imported data before uploading it.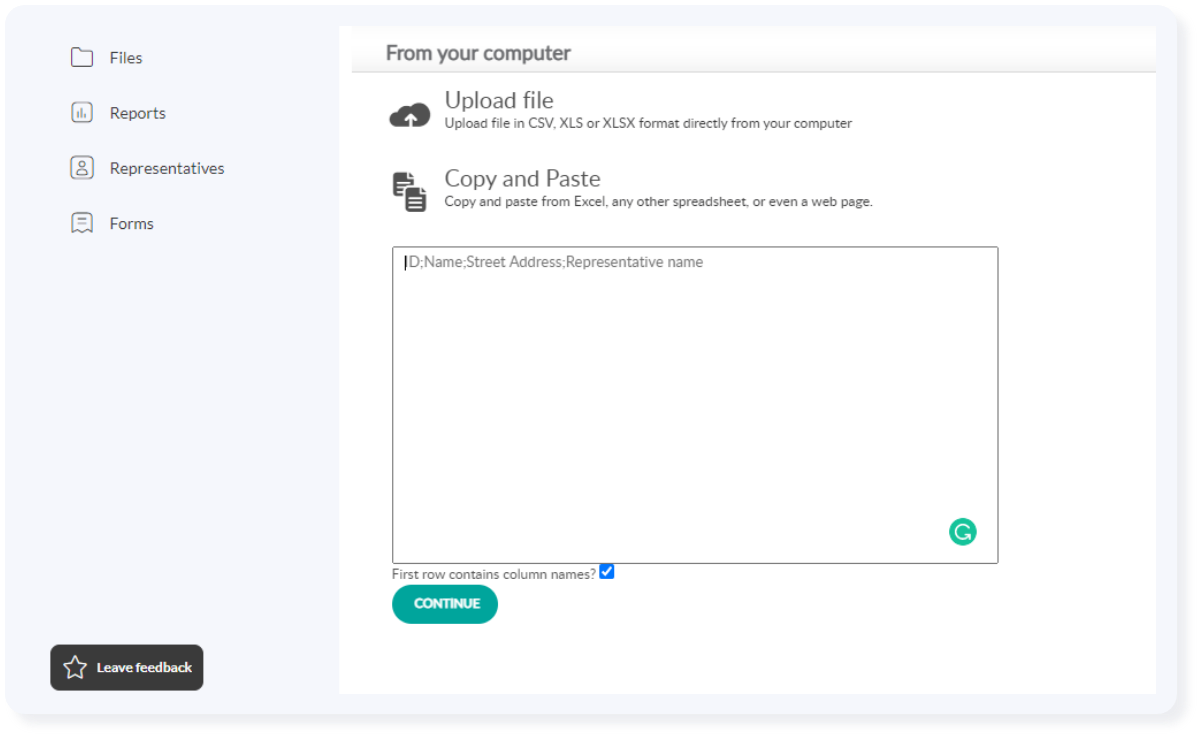 5. When you click on import you will have to map the columns in Repsly. Please click on EDIT and then on OK if the column name is already a match, if it's not, choose the right name from the drop-down menu.
The system can automatically recognize some rows but that is not always the case so please double-check it and map your columns accordingly by selecting from the drop-down menu the accurate column name before clicking the import button.
Below is how this step looks like: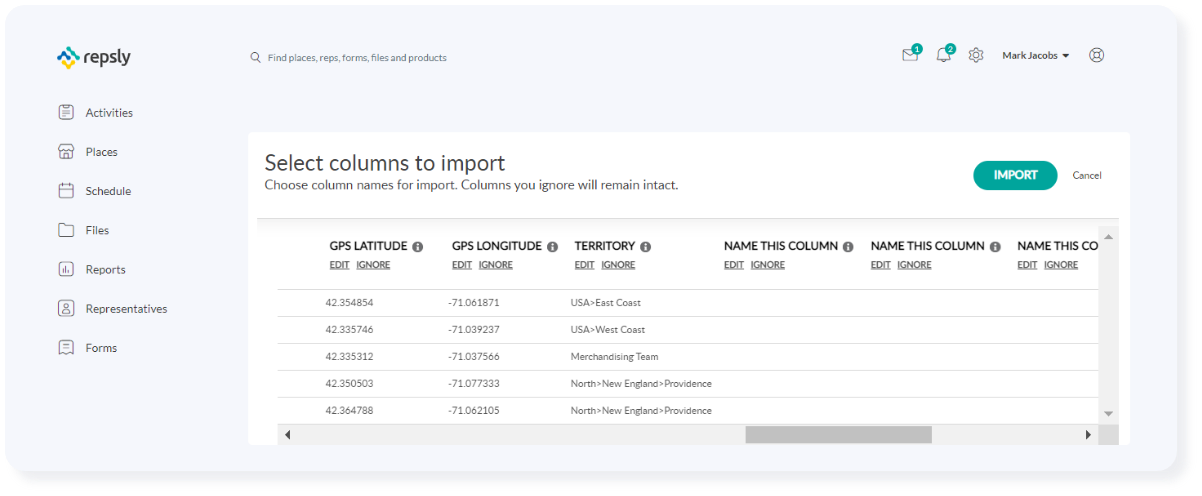 6. When you click on Import, you will see the following window(s) with the information if the import was successful.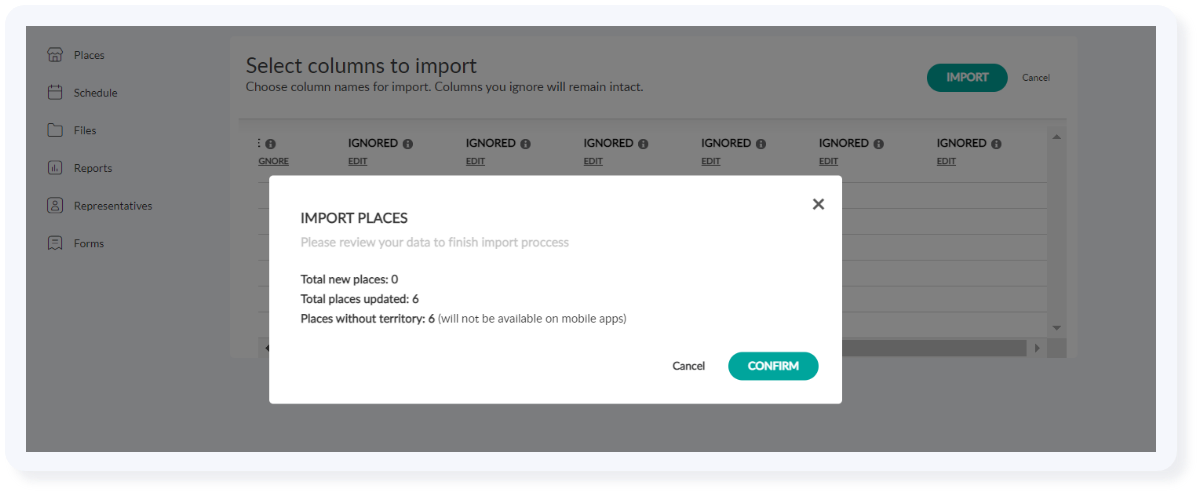 If your list is not properly formatted and there are errors that could cause issues with place visibility on the mobile app, you will get a message similar to our example below.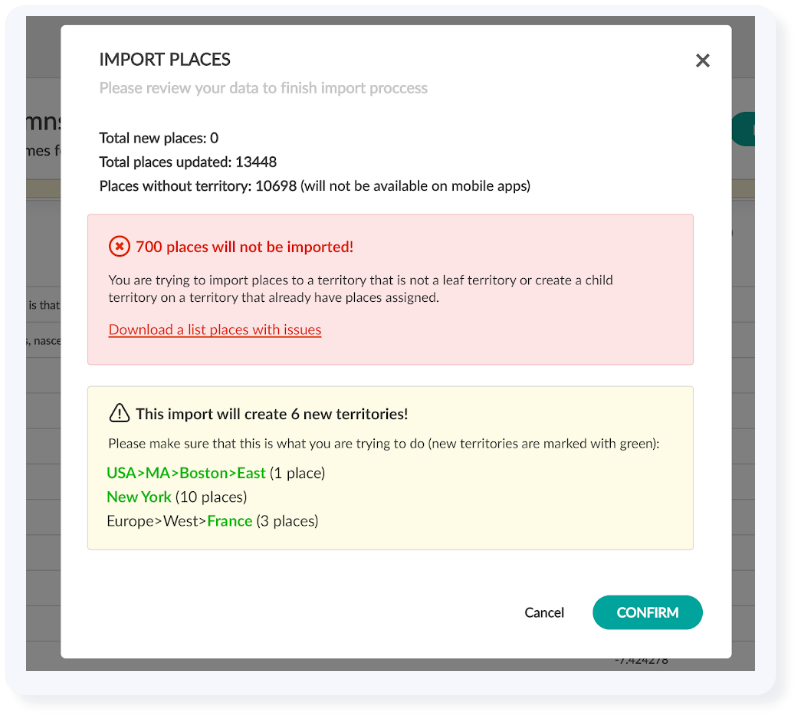 7. After the import is complete you will get an e-mail with the report.

PRO-TIP - WHEN PLACES ARE BEING UPLOADED, THEY MUST HAVE A UNIQUE PLACE ID.
We use a Place ID in order to not create duplicates in the account. Place ID has to be a unique identifier. As long as each place has its own Place ID, they will be able to have their own individual place account.
Results
All of the data that you edited or created in the uploaded file will be entered into your Repsly account. This allows you to add multiple places at once, and/or edit larger quantities of data in bulk.